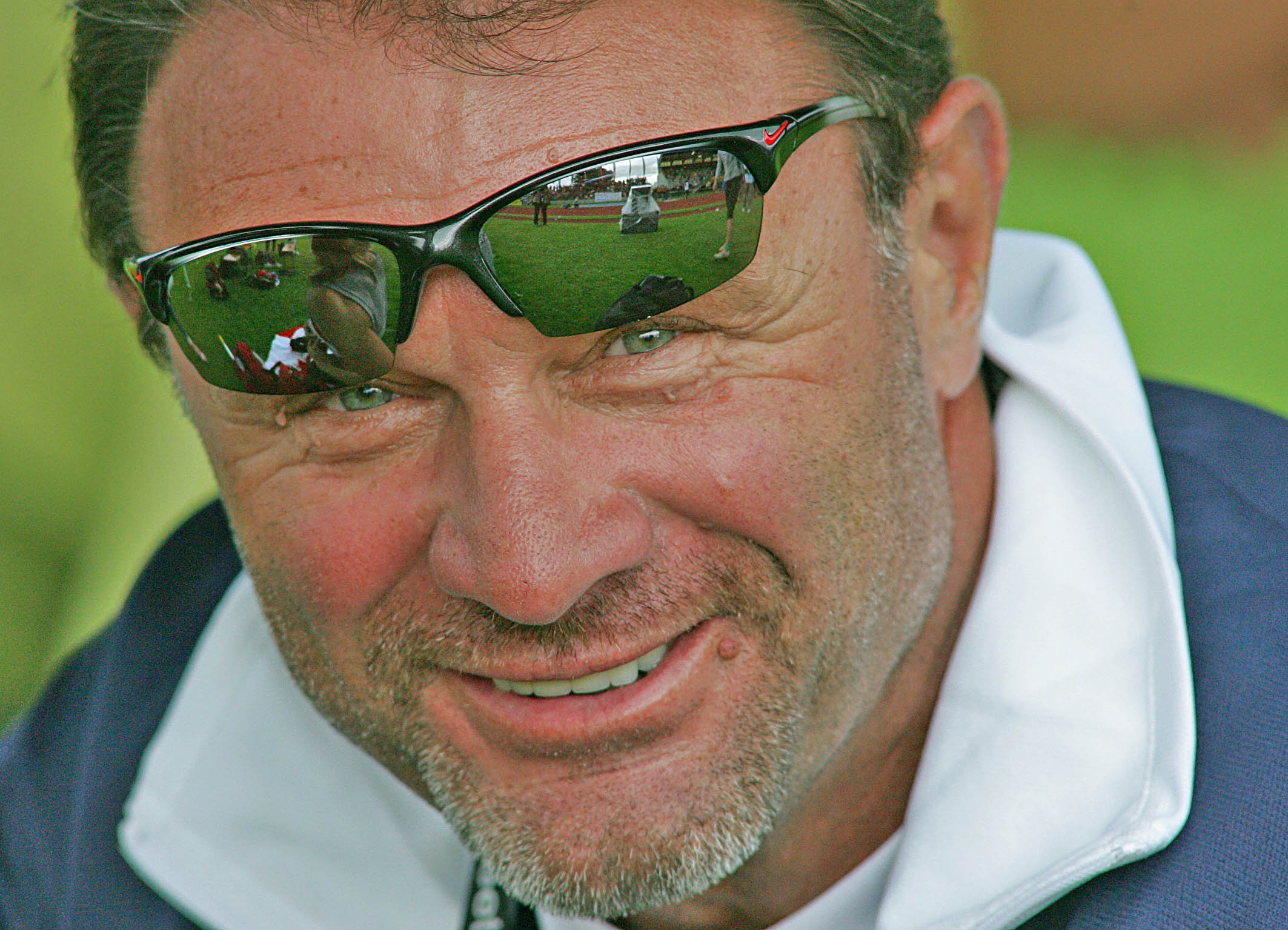 © Copyright – 2011– Athletics Illustrated

Les Gramantik, national athletics coach for Canada, focusses primarily on power and speed events. We interviewed, between his trips abroad to Korea and France as he actively coaches Canada's current top heptathlete, Jessica Zelinka.
Gramantik started coaching in Romania after retiring from his own international athletics career as a pole vaulter. He competed in the 1972 Munich Olympics. Gramantik also coached for Isreal however, has spent the majority of his career in Canada, at the University of Calgary, as the Dinos athletics coach at the same time occupying various coaching positions with Athletics Canada.
Gramantik has coached Canadian record holder in the decathlon, Mike Smith and former Canadian heptathlon record holder, Catherine Bond-Mills and current Canadian record holder in the heptathlon, Jessica Zelinka
Christopher Kelsall: You have been involved with athletics as an athlete and coach for nearly 50 years. Where did you find your inspiration to take up coaching once your own athletic career was finished?
Les Gramantik: Coaching is my profession, I was educated under the "old" East European system. So to coach was a decision I made even before I had stopped competing. Coaching for me was not dependent on me competing, but was everything to do with what I chose to be educated for.
CK: You were educated at the University of Bucharest, did you also attend the Academy of Sport there?
LG: The education system was based first on a physical education degree followed by specialization in a chosen sport. For me it was athletics and followed by masters in coaching science. There was no coaching allowed without a degree in physical education and BA in education. One could not just decide that he or she becomes a volunteer coach and perhaps takes a weekend NCCP course then start coaching, that was not possible. Working with children was valued as a high responsibility.
CK: Do you continue to follow Romanian Athletics
LG: No, not really. The head of the federation was a classmate of mine and I do know some people still, but I have no contact with them other than seeing them at major meets
CK: One interesting practice of yours during your two decades of coaching the University of Calgary Dinos was to not recruit and not necessarily cut either. You once said that people who think track is easy or are not prepared, end up quitting on their own. Is this a Les Gramantik invention or something you learned in Romania?
LG: I am not big on recruiting, young athletes need to decide on their own where is the best place for them to train. Athletes did come to Calgary because they realized what I, as a coach can offer, not because I promised things to them. Relocating is a difficult thing to do, so I don't need to be responsible to anyone for the choice they made, they need to make it on their own.
To cut athletes off the team never was necessary, we did not have a roster size and I found out that some showed up in the fall to try out (so to speak) and lasted a week or two but those who stayed became better people even if their athletic career was not great, so why would I not let them to be part of the program, not all I have done in coaching was just for performance, sometimes it is good to help young people to grow.
CK: You coached in Romania, Isreal and for a long time in Canada. What are the primary differences in culture of sport between the three countries?
LG: Things and people have changed over time, society has changed and the social fabric of the sport has changed. In Israel young people (primarily boys) dreaming of being in the army not necessarily doing well in athletics, in Romania and most of the so called eastern block money is what drives the sport and in Canada I have to work very hard to convince young talent that being a world class athlete is good and fun, however the work is hard.
CK: During Constantina Dita's Beijing Olympic Marathon. Were you thinking at that time that, while watching the race, that she would hold on for the win?
LG: Honestly, I did not watch it, I was a pole vaulter as an athlete so anything longer than an approach run was not my cup of tea. I have lot of admiration for the long distance running but do not watch a lot.
CK: Heptathlete Jessica Zelinka, who you coach, fell a little short of her goals at the Daegu, World Track and Field Championships. There were expectations for a medal, going in. With her personal best and Canadian record of 6490 points and a 5th place finish in the Beijing Olympics, does the focus now change for the 2012 London Olympics? Or is it all a matter of what happens on the day?
LG: Performing on demand is what I coach for, not for records not for rankings. The results from Daegu is not what we hoped and trained for, but at the same time it is not going to change our objectives for London. Our goal is still the same and that is the way we will approach our preparation. Good or bad. I review my training year each time and make decisions about changes. One should never stay complacent even when things are great, but I know we always learn more from our failure than success.
CK: In 2001 Bruny Surin called for your demise as Canada's Athletics Head Coach. Apparently he may have misinterpreted what you had said at that time about requiring athletes to participate in a specific event. Have the two of you since cleared up the misunderstanding?
LG: Those were difficult times, talking about 1999 to 2001. The leadership of the association was weak and my role as the head coach was more less honorary with no real power associated with it. Having the World Championship in Edmonton, following our worst showing a year before in Sydney, I just tried to bring some direction and possible success to our program and that required commitment by athletes to practice together, that is all I meant, and stood my ground.
CK: You wrote an article in 2008 about how success by athletes internationally is contingent (at least to some degree) on well-supported coaches. The article was a bit of a plea for more support for Canadian coaches. You sited successes by other, similarly-populated countries that had begun to support their coaches. Has anything changed since?
LG: Once graduated I was very well equipped with the knowledge of athletics to start coaching, as I often say perhaps I knew the most about track in my first year of coaching.
I was fortunate to go through on a very solid physical education system and benefited from a very advanced (at the time) university coaching program, followed by a strong mandatory mentorship by very experienced master coach.
CK: Were you involved with the formation of the National Track League? What are your thoughts after the inaugural season?
LG: Yes I was. It is a great initiative. We need to have competitions in the country, it can always improve and will improve but as a start it was as good as anyone had hoped for.
CK: Any thoughts on the CBC's and the Toronto Sun's recent articles bashing the Canadian track and field team heading to the London Olympics?
LG: I don't read much of what the media writes, nor am I worried about opinions. I learned a long time ago that one's opinion is not necessary knowledge. Nevertheless, I have seen some of the writings. I think we are too sensitive about lot of things. Is there some truth in it? Probably. I do think that athletes spending time on social media issues does create extra stress on them, neuroscience research has proof of that, but I am not convinced that that is the only reason of some underperformances, there is more to it.
CK: Do you see positive returns coming to Canadian athletics from the National Track League inaugural year? Do you think the second-tier international events like Commonwealth Games and Pan American Games we will start to see results – eventually creating competitive Olympic and World competitors?
LG: The National Track League was an important move by Athletics Canada to create high level competition in the country, I know with added improvements this could be the most important move we made to promote track in Canada. Our participation at Pan Ams and Commonwealth as well as FISU is very important, it provides an international flavor to competitions and in most cases the level of competitiveness was greater than many would have expected. This should be about learning to compete and win stages in athlete's preparation.
Read his athlete, Jessica Zelinka's interview here>>